SIDESHOW
Steven Takasugi & Ensemble Tzara
11 April, 8pm, Smock Alley Theatre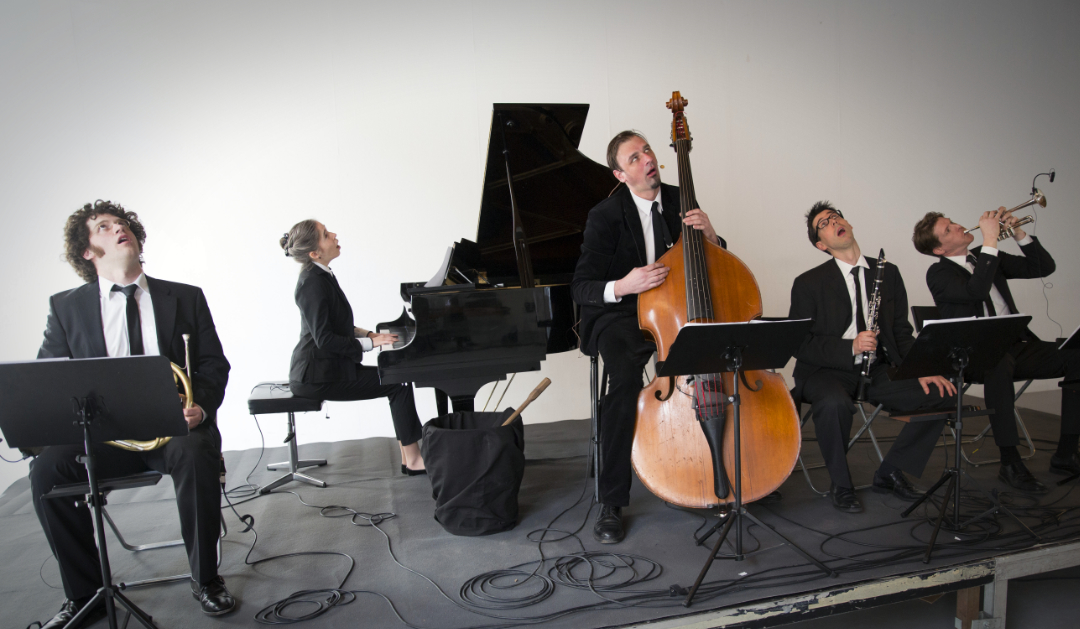 Ensemble Tzara (photocredit, Dominique Meienberg)
Programme:
STEVEN KAZUO TAKASUGI, SIDESHOW, for amplified quintet and electronic playback in five movements (2009-2015)
performed by ENSEMBLE TZARA
The Irish premier of Steven Takasugi's concert-length music theatre masterwork for chamber ensemble. Based on the dark sideshows of Coney Island's amusement parks in the early part of the 20th century, SIDESHOW is a meditation on virtuosity, freak shows, entertainment, spectacle, business, and the sacrifices one makes to survive in this world. A cycle of six aphorisms by the Viennese satirist Karl Kraus is embedded as a subtext running through the work. (kairos-music)
"There is an unrepentant nakedness in Takasugi's performances that suggests an intensely honest viewing of the world. The work's language is one of immediacy. Such immediacy is increasingly the vehicle for storytelling, as manifest in the recent and cripplingly engrossing SIDESHOW (2009-15). It is like a Wizard of Oz bereft of tornadoes and technicolor: rather than journeying with spectacle, we find ourselves already in the foreign land. This new place emerges from the one we have always known, or thought we knew." (Ray Evanoff, fociarts.com)
Steven Kazuo Takasugi 'Sideshow' | Warszawska Jesie? 2016 from studioFILMLOVE on Vimeo.
STEVEN KAZUO TAKASUGI (born 1960, Los Angeles) is a composer of electro-acoustic music. This involves the collecting and archiving of recorded, acoustic sound samples into large databases, each classifying thousands of individual, performed instances collected over decades of experimentation and research, mostly conducted in his private sound laboratory. These are then subjecting to computer-assisted, algorithmic composition, revised and adjusted until the resulting emergent sound phenomena, energies, and relationships reveal hidden meanings and contexts to the composer. Against this general project of fixed-media is the addition of live performers, described as an accompanying project: "When people return . . ." This relationship often creates a "strange doubling" playing off the "who is doing what?" inherent with simultaneous live and recorded media: a ventriloquism effect of sorts.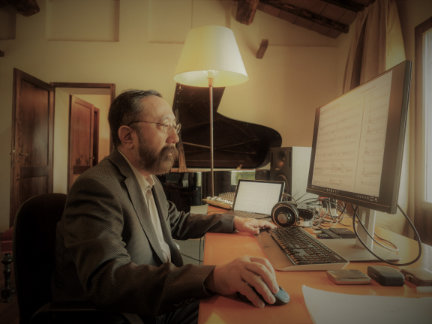 Steven Takasugi (photocredit, Marco Giugliarelli)
Takasugi received his doctoral in music composition at the University of California, San Diego. He is currently an Associate of the Harvard Music Department. He is a 2017 Civitella Ranieri Fellow, the 2016 Riemen and Bakatel Fellow for Music at the Radcliffe Institute for Advanced Study at Harvard University, and is the recipient of awards including a John Simon Guggenheim Fellowship, two Ernst von Siemens Foundation Commissions, and a Japan Foundation Artist Residency in Tokyo. His work has been performed extensively worldwide.
Takasugi is also a renowned teacher of composition associated with masterclasses in New York City, Singapore, Stuttgart, Tel Aviv, Darmstadt, Bludenz, and Cambridge, Massachusetts. He has taught at the University of California, San Diego, Harvard University, California Institute for the Arts, and the Kunitachi College of Music in Tokyo. Takasugi is also an extensive essayist on music and was one of the founding editors of Search Journal for New Music and Culture. He has organized numerous discussion panels and fora on New Music including colloquia and conferences at Harvard Music and the Darmstadt Forum.
ENSEMBLE TZARA was founded in 2007 as a group of performers interested in working with experimental composers of the same generation to develop programmes in a contemporary social context.
Tristan Tzara, co-founder of the Dada movement in Zürich a hundred years ago, who questioned all contemporary conventions around him, is a guiding spirit for the group.In five years of its existence, Ensemble TZARA has realised many premieres and received international acclaim and recognition by public and press. In 2012 the group was awarded the Cultural Prize of Zürich.