Collaborative Composition
Workshop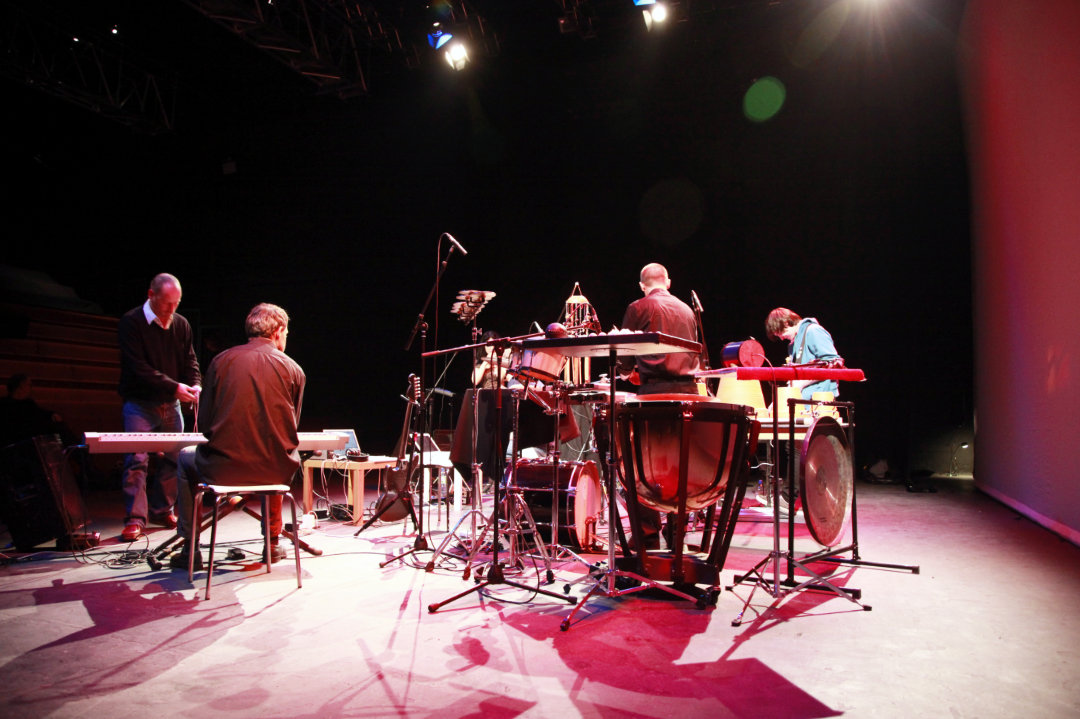 Music Current workshop 2011 (photo, Mihai Cucu)
Date: tbc
Venues: Project Arts Centre, Essex St, Dublin; and CMC, 19 Fishamble St, Dublin
Duration: All day
Cost: €100 (Bursary available for members of Association of Irish Composers)
Deadline: Applications are now closed
Dublin Sound Lab invites composers, musicians, instrumentalists, singers and music technologists to submit ideas for new music works to be developed and performed in a Collaborative Composition Workshop 2020, during MUSIC CURRENT FESTIVAL, Dublin.
We are especially interested in proposals which are clear in concept but which are not yet fully realised, and which would benefit from practice-based collaborative development to complete and perform the work. As many as ten participants will be selected to collaborate in a series of composition workshops and to develop and realise their works in concert at Project Arts Centre, 2020.
Submissions can include devised works, or concepts for collaborative composition and performance, for any combination of flute, synthesiser, fixed-media, multichannel loudspeaker system, live electronics, computer, synthesiser, midi controllers, or any other instrumental or vocal forces that the participant can supply. We anticipate that the participants will be able to realise their own works, or to be able to source suitable collaborative musicians and partners from amongst the workshop participants to help perform or realise their work.
Participants will have access to a rehearsal/performance space and production facilities at Project Arts Centre, and assistance from Music Current Festival technicians. Participants will enjoy access to all Music Current Festival concerts, and will take part in public panel discussions, technical reviews, open rehearsals with Richard Craig, round-table discussions with Karlheinz Essl, and masterclasses with Alexander Schubert and Marko Ciciliani, and will benefit from workshop supervision and technical advice from Gilbert Nouno. Composers Piaras Hoban and Seán O'Dálaigh will also be available during the workshops.
Composers, musicians, instrumentalists, singers or music technologists of any age or nationality, with experience or interest in electronic composition and performance may apply. Composition Workshop participants must be available to attend at Music Current Festival, Project Arts Centre, Dublin, 2020. Application is free but selected participants will pay a fee of €100. At least one of the participants will be invited to work with Dublin Sound Lab as an Associate Artist and will be offered a commission of €2,500 to develop a new work for Music Current Festival 2021.
Application deadline, CLOSED
Notification of acceptance, tba
Participation fee deadline, tba
For more information, a complete schedule of activities, and information on how to apply, please see Music Current 2020 Composition Workshop.