Bastard Assignments
Execution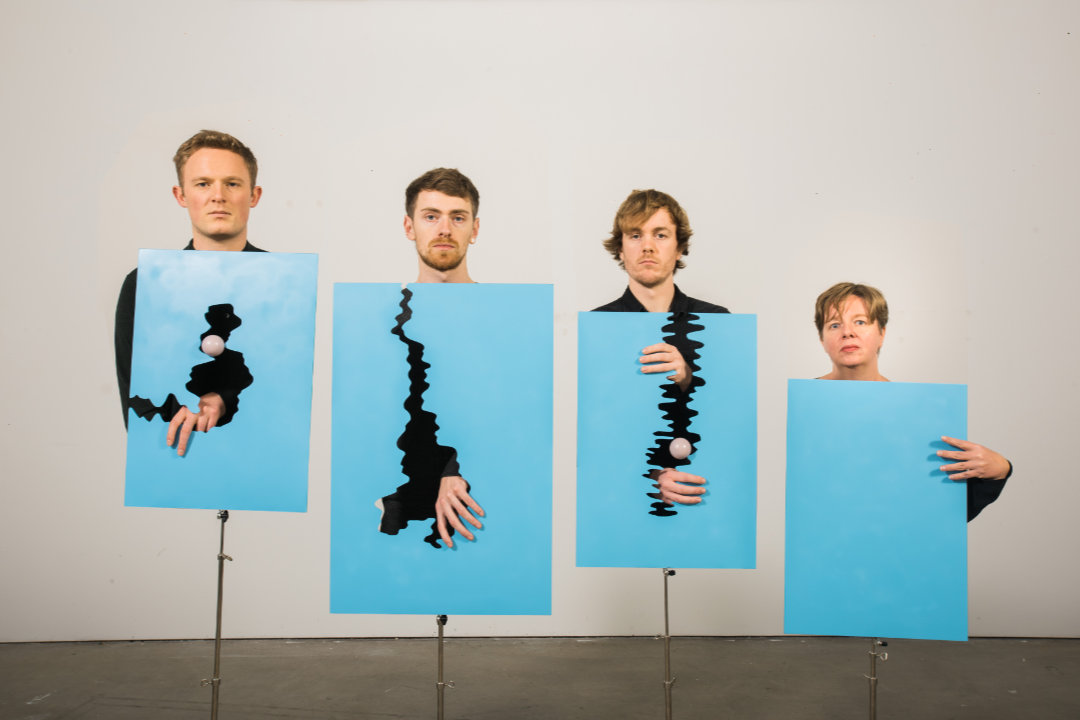 Bastard Assignments (photo Max Colson)
PROGRAMME:
Timothy Cape, Sorry for the late reply (percussion and video projection, 2021)
Edward Henderson, Will (four singing musicians, 2020)
Caitlin Rowley, Quiet Songs (solo viola and voice, and projection, 2019)
Josh Spear, FEED (four performers, projection and audio, 2019)
Date: 8pm, 10/11/21
Venue: SMOCK ALLEY THEATRE
Duration: c. 1 hour
Bastard Assignments are four composer-performers Timothy Cape, Edward Henderson, Caitlin Rowley and Josh Spear – who work exploring experimental music, performativity and movement. In this programme – their first appearance in Ireland – they present four Irish premiers in a true multi-media concert.
For Bastard Assignments, music is not an abstract fixed idea, but something that happens at the point of performance. This philosophy guides their work at all stages, with the act of performance informing composition, rehearsal and collaboration. Their approach is both playful and holistic; involving movement, staging, props, lighting, story telling and space. It follows that their "music" therefore defies being captured by audio recording alone: the audience experience is the music. You don't just listen to Bastard Assignments, you have to be there at the moment of execution.
"Bastard Assignments are a welcome reminder of the value of risk in artistic creation"
– Tim Rutherford-Johnson,Neue Zeitschrift für Musik, August 2019
"one of the most exciting forces in contemporary music"
– Financial Times
During 2020–21 Bastard Assignments produced the acclaimed online project, Lockdown Jams. In 2019 performed at Aldeburgh Festival UK, Spor Festival Denmark, produced shows in London and made multiple appearances on BBC Radio 3. Bastard Assignments have performed at hcmf//, Royal Academy of Arts, LCMF, in Copenhagen and Århus with AUT, Frontiers Festival in Birmingham, Nonclassical, and in Chicago with Mocrep. They were resident artists at Snape Maltings from 2017–19, where they developed their collaborative composing practice.