Darragh Morgan
Anthèmes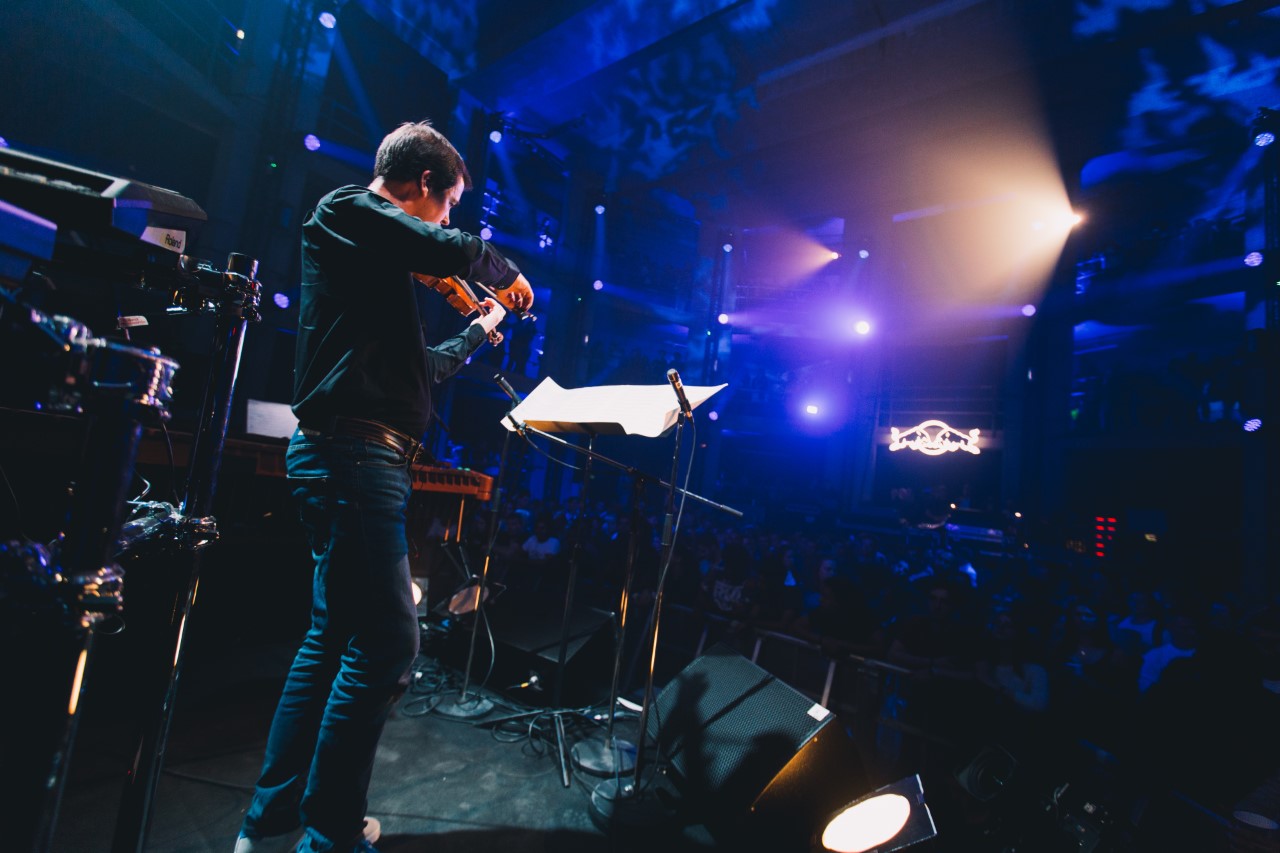 Darragh Morgan
PROGRAMME:
Frank Lyons, Spin 2 (2021)
Pierre Boulez (1925-2016), Anthèmes 2 (1997)

Date: 8pm, 9/11/21
Venue: SMOCK ALLEY THEATRE
Duration: c. 1 hour
Ever since the late 1980s, when computers became fast enough to keep up with live performance, composers have written for acoustic instruments augmented with digital electronics. Pierre Boulez is no exception. As the first director of Paris' IRCAM research centre for electroacoustic music (from 1977 to 1992), he has greatly influenced the development of music with live electronics, and they feature in several of his works of the 1980s and after. 'Anthèmes II' (1997), for violin and electronics, provides a good example of his style and methods. The first thing to note is that there is no 'Anthèmes I', as it were. Anthèmes II is based on a solo violin work that Boulez composed in 1991 for the Yehudi Menuhin Violin Competition. Lasting around 9 minutes, Anthèmes is a challenging text of a performer's skill in managing different instrumental timbres, as well as giving shape to an endlessly inventive series of runs, trills and flourishes.
Anthèmes II is still for violin. The shape of the piece is basically the same, with the same events in the same order. But with the addition of live electronics Boulez has stretched it to twice its original length.
All of the music heard on the electronic track is generated in real time; none of it is pre-recorded. More crucially, in terms of the technical innovations of the piece, all of it is cued up and synchronised by the computer, which analyses what it hears the violinist playing to 'follow' the score itself and trigger the right sounds or effects at the right moment. (In 1997 this was cutting edge stuff, using technology and expertise that had been built up at IRCAM over two decades.) Phrases and gestures are ornamented and elaborated, the violin is split into multiple copies of itself, or smeared into chords, or its sound is transformed into rushing wind or drops of rain. What in the original were single pizzicato plucks are splintered into many tiny points of sound; trills bloom into great reverberant spaces. It is as though the solo piece has been placed inside a hall of mirrors, each one reflecting a differently distorted version of the original.
So the Anthèmes of 1991 is extended by the insertion of electronic material throughout. The violin is extended by the addition of electronics, which allow it to play against itself, and to transform in timbre in ways previously impossible. Finally, Boulez asks for the electronic sounds to be distributed amongst a surround-sound speaker system, extending the violin once more into three-dimensional space.
Throughout his career, Boulez has made a habit – a working practice, even – of revising, pillaging or expanding upon older pieces in this sort of fashion. In another work composed around the same time as Anthèmes II, Sur Incises (1996–98), he transformed a short piano solo (Incises, 1994) into a 40-minute toccata for three pianos, three harps and three percussionists. What is fascinating about Anthèmes II is that a similar expansion occurs, but this time without the addition of anyone else on stage: to the eye this is still a solo violin work, but one in which the violin appears to have been prosthetically extended.
Boulez is not the only composer to have worked with string instruments in this way. The American Tod Machover is a former IRCAM protégée. Now a professor at MIT, he is central to the development of a set of 'hyperstring' instruments – hyperviolin, hyperviola and hypercello – that use real time computer processing like that pioneered in Anthèmes II. This time, however, the instruments themselves have been redesigned to incorporate microprocessors and motion sensors so that every movement of the bow can be transmitted to the computer and reprocessed, allowing for even greater electronic manipulations.
There is an element of science fiction and the cyborg to all of this, in which traditional performance actions are translated into the virtual space of the digital before being thrown out again by speakers placed anywhere in the concert hall. And that may make some listeners uncomfortable. But as Boulez shows, the results of a human-computer partnership can be beautiful too.
(Tim Rutherford-Johnson)
In 1995, Boulez decided to compose an electroacoustic version of Antras themes, the electronic material of which is generated in real time. In determining the music parameter of the violin recognizable by the computer ( "Score-follower ") and experimenting with possible interactions, the piece was used to gradually exploit the musical possibilities that the electronics offer. Different degrees – rewritten "new ":
The structure of the violin sound and the composition species families can be modified to expand and create a spatial element that allows the musical material to be projected into any position in the room.
(Michael Everett Universal Edition)
Spin 2 was collaboratively conceived by the composer and the dedicatee, violinist Darragh Morgan, as the second of a coherent pair of works taking as their model Boulez' Anthèmes for solo violin and Anthèmes 2 for violin and electronics. Spin and Spin 2 use essentially the same notated score, with development of live sound processing in Spin 2. The use of Spin in the title references spinning wheels used in games of chance and contemporary DJ production techniques, and these are explored in the form of the aleatoric process which order the piece's four main sections and in the 'remixing' of gestures from classic 20th and 21st century solo violin repertoire. The live electronics for Spin 2 were created during Covid lockdown, necessitating the investigation of videoconferencing for
collaboration and remote processing.
The order of performance of the four main sections is decided by using a 'Spinning Wheel' app. Borrowed gestures (Bartók, Boulez, Carter, Xenakis, Zorn) are 'remixed' throughout. However, harmonic coherence is provided by filtering the pitch material of the gestures through permutations of the all-interval tetrachords. The gestures are transformed and notated in ways to provide scope for improvisation. The live processing in Spin 2 expands the notated material in terms of colour, timbre and harmonic palette, drawing on spectral and granular synthesis techniques of Anthèmes 2, here explored in Live and Max patches designed to facilitate greater freedom in improvising with parameters of the live processing. (Frank Lyons)
Violinist with Fidelio Trio, Darragh Morgan has performed extensively throughout Europe, USA, Africa and Asia. He has performed concertos with orchestras including European Union Chamber Orchestra, Istanbul Symphony, Cyprus Chamber Orchestra, Johannesburg Philharmonic, National Symphony Orchestra of Ireland, Ulster Orchestra, RTE Concert Orchestra, and Kolner Kammerorchester.
As a highly active and renowned interpreter of contemporary music, Darragh has collaborated with many of the most important composers of our time, in particular Arvo Part, Philip Glass, John Tavener, Kevin Volans, Michael Nyman, Gerald Barry and Michael Finnissy. He regularly leads London Sinfonietta, and has also guest led Ensemble Modern, Musik Fabrik, Birmingham Contemporary Music Group, Remix Ensemble (Porto) and Athlesas Sinfonietta (Copenhagen ). Darragh was violinist with the acclaimed Smith Quartet from 2005-2011 and previously Artistic Director of Barqoue 2000 in South Africa. From 2009-19 he was on the violin faculty at Royal Welsh College of Music and Drama and has given masterclasses at Curtis Institute, Peabody Conservatory, Central Conservatory Beijing and YST Singapore. Darragh has recorded over 50 albums for Naxos, Resonus, NMC, Metier, Delphian and Signum. He plays an 1848 Giuseppe Rocca violin, generously on loan from The Morgan-Rocca Instrument Trust which is administered by The Royal Society of Musicians and a fine bow made by Alfred Lamy.
Professor Frank Lyons is Executive Dean of Arts, Humanities and Social Sciences at Ulster University. He has developed an international profile as a composer and researcher with over 200 performances and exhibitions of his works having been given in China, Japan, Australia, South Africa, the US, Europe, the UK and Ireland and broadcast on BBC, RTE, NPR and ABCFM by some of the world's leading soloists and ensembles. He has led an international network of research collaborations in the field of creative technologies and disability under the 'Inclusive Creativity' banner. Frank is a Senior Fellow of the Higher Education Academy and a Fellow of the Royal Society of Arts. He was awarded an MBE in 2019 for services to Music and Higher Education.