Lina Andonovska
Public Privacy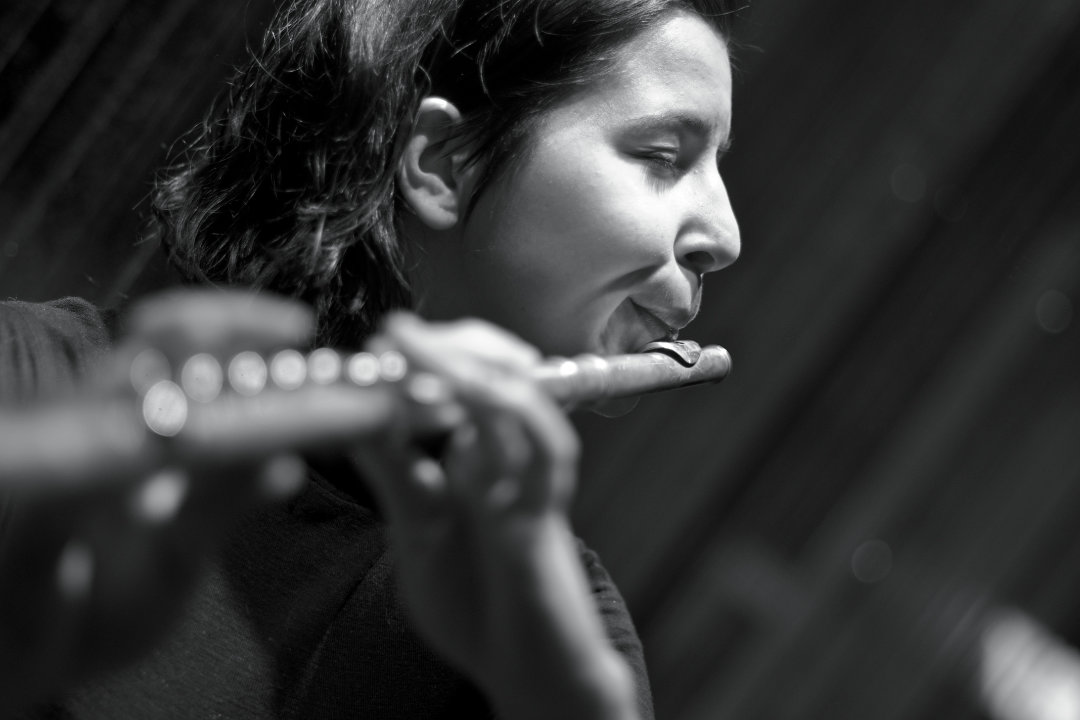 Lina Andonovska (photo Claudia Phares)
PROGRAMME:
Nicole Lizée, Tarantino Etudes (22')
Brigitta Muntendorf, Public Privacy #1 (Flute Cover) (5')
Paul Méfano, Traits Suspendus (6')
Bekah Simms, Skinscape (5')
David Fennessy, Bridge (5')
Date: 6pm, 11/11/21
Venue: SMOCK ALLEY THEATRE
Duration: c. 1 hour
This programme contains depictions of violence and drug-taking
Curiosity, fearlessness and versatility carry Lina Andonovska's artistry around the globe. Andonovska is a rare breed in the flute world; a name that you'll discover on both the pages of Rolling Stone and the Australian Chamber Orchestra roster, she has not only cultivated partnerships with leading composers including Louis Andriessen, Donnacha Dennehy and flautist Claire Chase, but also deep community ties from Timor Leste to Tokyo's incubator Wonder Site.
In this programme Lina presents some of the most stimulating and defiant voices in contemporary music, including the Irish premiers of works by Sarah Nemtsov and Brigitta Muntendorf, herself one of the Music Current guest composers and workshop co-ordinator at the collaborative composition workshop (see Music Current Soloists concert). Together with works by Paul Méfano, and Bekah Simms, and Nicole Lizée's 'Tarantino Etudes', Lina presents a varied programme that uses technology as a central feature, not as a gimmick, but to interrogate the role of technology and media and their roles in music, musical material and our relationship with media and technology.
"Redefining the art of going solo...(Andonovska's) stage ability is something to behold...Andonovska does not simply ask for your attention, she demands it. a holistically excellent performer at the helm." The Age, Melbourne International Arts Festival review
Recently appointed as flautist of 4-time Grammy Award-winning ensemble 'eighth blackbird,' she has collaborated with groups including Ensemble Modern, Ensemble Recherche, Crash Ensemble, Deutsches Kammerorchester, stargaze and Southern Cross Soloists. She is critically acclaimed for her interpretation of new music; Rolling Stone Magazine hailed her performance at Bang On A Can Summer Festival as "superbly played, (ranging) from sustained 'somebody-please-get-that-tea-kettle' squeaks to the flit and flutter of its beautifully lilting trills...".
As an orchestral player she has worked with some of the world's leading orchestras including the BBC Symphony Orchestra, Australian Chamber Orchestra, Malaysian Philharmonic Orchestra, Southbank Sinfonia and most of Australia's symphony orchestras. As concerto soloist she has performed with Deutsches Kammerorchester, Orchestra Victoria, Tasmanian Symphony Orchestra and Southbank Sinfonia.
Performance credits include a solo performance at the Melbourne International Arts Festival that was noted as "re-defining the act of going solo " (The Age), Brett Dean's flute concerto 'Siduri Dances' with Deutsches Kammerorchester, Tokyo Experimental Festival Grand Prize, appearances with stargaze at the Edinburgh International Festival, Berlin's acclaimed Unerhérte Musik series and a solo recital at Musica Nova Helsinki. Lina released her debut solo album with Diatribe Records label in early 2020, which was described as "brimming with energy and bold textures, though marked throughout by nuance. A name to watch out for." (All About Jazz).