Richard Craig
VALE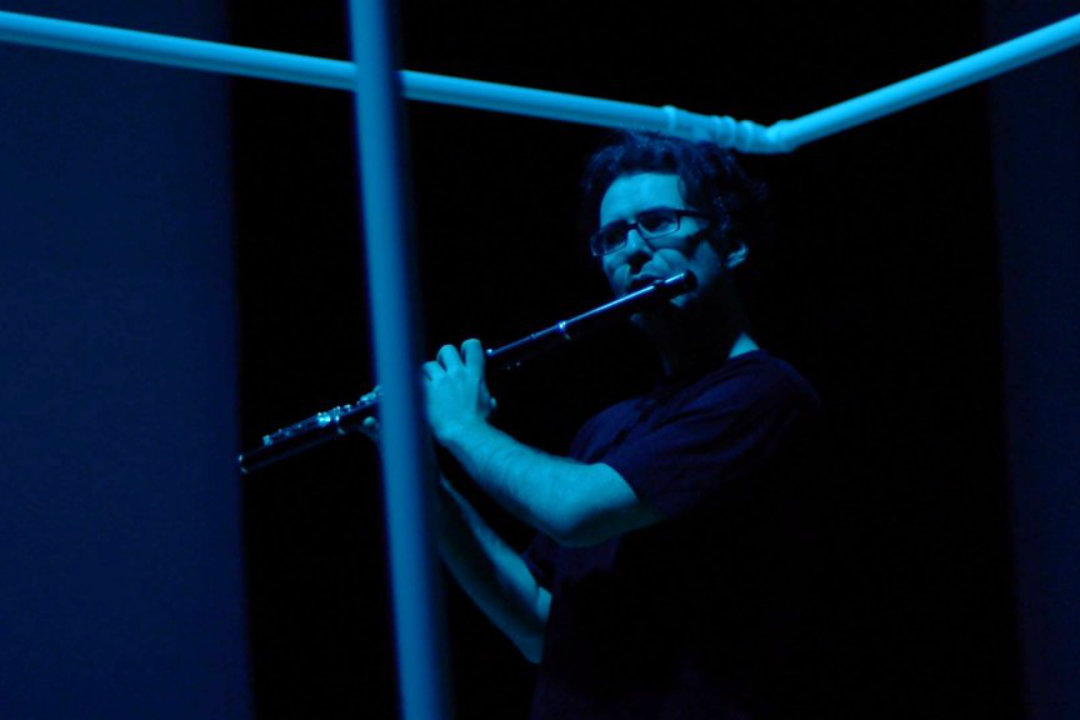 Richard Craig
PROGRAMME:
Richard Barrett, Vale, for amplified flute (13') *
José Manuel Serrano, Retratos de Al-Fayyum, for solo bass flute, electronics and two prerecorded bass flutes (10') **
Seán O'Dálaigh, Landscape II, flute (5') Music Current 2019 Commission **
Fergal Dowling, Double, flute and electronics (12') **
Egidija Medekšaitė, Nigamagamini for amplified solo bass flute and pre-recorded tape, 2014 *
*Irish premiere
**World premiere
Date: 11/11/21
Venue: SMOCK ALLEY THEATRE
Duration: 1 hour
Richard Craig is one of the most adventurous and talented performers of contemporary flute music. His passion for new repertoire has led him to collaborate with many of the leading composers of our age as well as many of the new generation of younger composers. In this programme of very recent works, and mostly commissions and premiers, all specially written for him, Richard Craig is joined by composer/performer and computer music wizard, Gilbert Nouno in this exploration of new music from Ireland, England, France, and Argentina that engages all the technical resources of the performer, the instrument, and electronic music techniques.
"Richard Craig's focus is upon music that has the ambition to move the boundaries of the instrument, and as a result, Craig extends the limits of what is in principle unplayable. " (Nutida Musik)
Richard Craig studied flute at the Royal Conservatoire of Scotland with Sheena Gordon and later with Richard Blake, continuing his studies at the Conservatoire de Strasbourg, France, with Mario Caroli. Richard has performed with groups such as ELISION, Musikfabrik, Klangforum Wien, The Estonian Radio Choir, the RTÉ Orchestra and Das Experimentalstudio Ensemble, which has taken him to international festivals such as Maerzmusik Berlin, Wittener Tage für Neue Musik, the Venice Biennale, Huddersfield Contemporary Music Festival, the Festival D'Automne in Paris and the Lincoln Center Festival New York.
At the centre of Richard's work in contemporary music is the development of new repertoire for the flute, and he is involved in commissions both with established composers and the younger generation of artists. Richard has recorded for the BBC, WDR Cologne, YLE Finland, Radio France, Radio Nacional de España, Swedish Radio, ARTE, Icelandic RUV, Wergo, Another Timbre. His solo debut disc INWARD was released on the Métier label in 2011 to critical acclaim. He appointed as Visiting Fellow in Performance at Aberdeen University 2009-11. From 2012-2014 he was a visiting lecturer on the Post-Graduate performance course at Huddersfield University, and further to this he was appointed as Honorary Research Fellow at the same University 2014-2019. Between 2015-2019 he was Head of Performance at Bangor University, Wales.