Dublin Sound Lab
Currents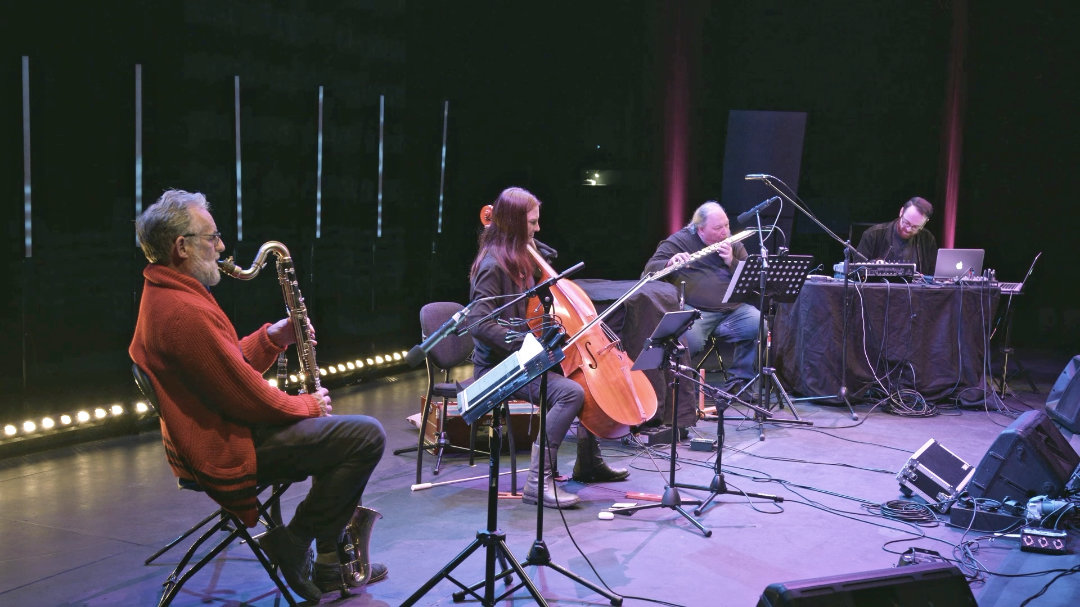 Dublin Sound Lab with Elis Czerniak (photo Mihai Cucu)
Date: 8pm, 19/4/22
Venue: PROJECT ARTS CENTRE
Duration: 1'15"
PROGRAMME:
Paul Scully, Will We Give it a Bash? (clarinet and electronics, 2021)*
Jane Deasy, Blossom (cello and electronics, 2021)*
Gráinne Mulvey, Entry and Exit Wound (for bass flute and electronics, 2021)*
Brona Martin, Margaret's Song (fixed media, 2022)**
Panayiotis Kokoras, Stone Age (cello, fabricated prosthetic devices and electronics, 2022)**
Elis Czerniak, and the Acceptance of Death (bass flute, bass clarinet, cello and electronics)*

* Developed during Music Current Composition Workshop 2021
** Music Current Commission
PERFORMERS:
Joe O'Farrell, flute
Paul Roe, bass clarinet
Ilse de Ziah, cello
Paul Scully, electronics
Jane Deasy, electronics
Elis Czerniak, electronics

A central feature of Music Current Festival is the creative collaboration of composers and performers and the presentation of new works. Music Current regularly commissions new compositions and creates opportunities for collaborative development.
In this concert we present four new works which were developed in close and extended collaboration between the composers and instrumentalists throughout 2021, including premiers of new works by Paul Scully, Jane Deasy and Gráinne Mulvey, a second performance of Elis Czerniak's and the Acceptance of Death, as well as new works by Panayiotis Kokoras (Greece/USA) and Brona Martin (Ire/UK), commissioned as part of our annual commissioning scheme.
Panayiotis Kokoras' new work for cello and electronics explores the cello's sound potential using fabricated prosthetic devices that blend composition and performance practice with electronics and instrument design.
Brona Martin's new surround sound acousmatic composition is an extended meditation on the seminal folk music recordings made by the American ethnomusicologist Alan Lomax in Ireland during the early 1950s. Brona will be working with recordings from the Alan Lomax Collection at the American Folklife Center, Library of Congress, courtesy of the Association for Cultural Equity.