Homburger/Guy
Duo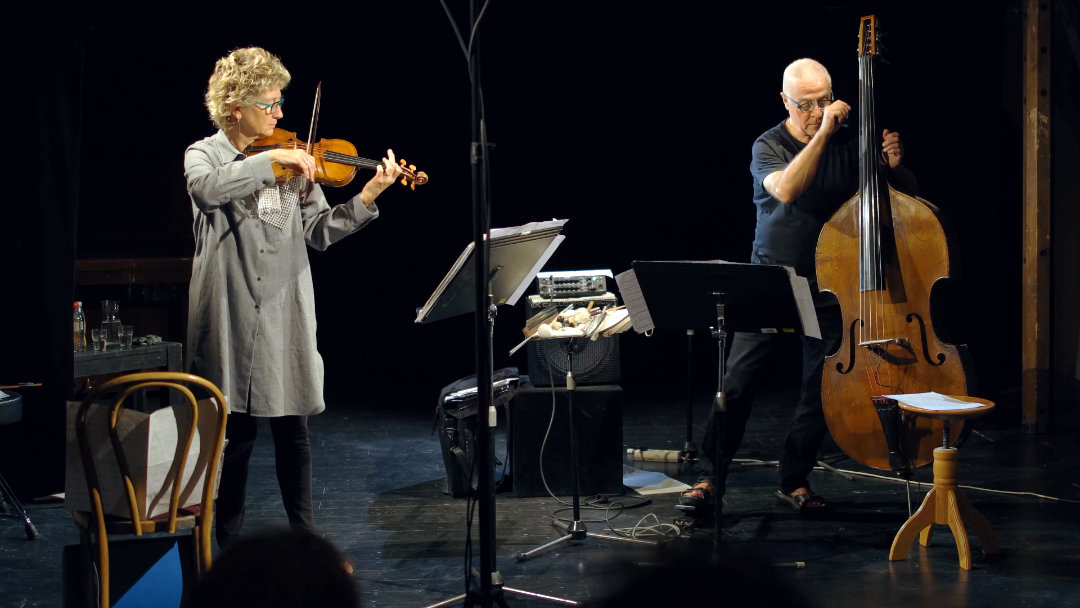 Date: 8pm 22/4/22
Venue: Project Arts Centre
Duration: 1 hour
PROGRAMME:
Hymn (9th century), Veni Creator Spiritus
H. I. F. Biber (1644 – 1704), Annunciation from Mystery Sonata No 1
Barry Guy, Aglais for violin with improvising bass
György Kurtág (1926-), In Memoriam László Mensáros, for solo violin
György Kurtág (1926-), Hommage à J.S.B.
J.S. Bach (1685- 1750), Allemande from Partita in D minor          
Barry Guy, Five Fizzles for S.B., for solo bass
Barry Guy, Quindecim, Theme and Variations I–X
Barry Guy, Quindecim, Variation XI "Mirlitonnades"
Barry Guy, Quindecim, Variations XII–XV  
PERFORMERS:
Maya Homburger, violin
Barry Guy, double bass
Maya Homburger and Barry Guy join forces to present a programme of new compositions, improvisations, and Baroque masterpieces. Barry Guy is renowned as one of the most virtuosic and imaginative improvisers in the world today. He joins forces with Maya Homburger, whose interpretation of solo violin sonatas is inspired by his freedom and creativity.
Since they met on tour with the Academy of Ancient Music in 1988 and began working closely together, Barry Guy and Swiss-born baroque violinist Maya Homburger have been bringing their musical interests – and practice – closer together. Once distinct and separate, they now allow their respective musical backgrounds and approaches to spur and inspire each other.
In this programme, featuring works by H.I.F. Biber, J.S. Bach, György Kurtág and Barry, the Homburger/Guy Duo creates a conduit through which music from the 17th century and earlier can flow effortlessly into contemporary compositions and improvisations.
This performance will take place within a special loudspeaker system designed to immerse both the audience and the performers in virtual acoustic spaces.* This system imposes new alternative acoustic on the performance space and can render a transparent and realistic sense of other acoustic spaces, such as historic buildings, natural spaces or even synthetic spaces.
The concert will be preceded by a lecture-recital on the Duo's concept of "musical stretching" will give insight into their approach to create a journey which takes the listener seamlessly through various musical styles. They will also demonstrate and explain some of the extended techniques on bass and violin which create new sound worlds.
Listeners interested in finding out more about the virtual acoustic loudspeaker system and invited to attend this workshop and demonstration.
* This loudspeaker-based virtual acoustic system was invented at Stanford University by Professor Jonathan Abel, Dr Eoin Callery, and Dr Elliot Canfield-Dafilou. It continues to be developed at Stanford University and at the Irish World Academy of Music And Dance in the University of Limerick.
www.maya-recordings.com